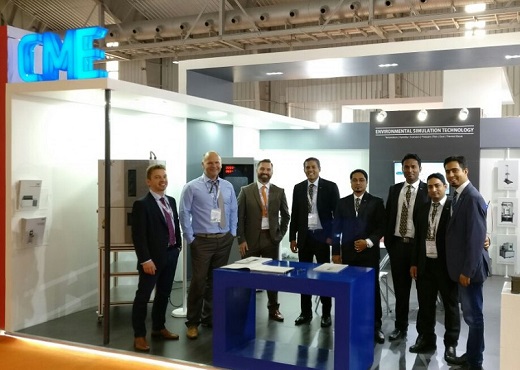 The ongoing Electronica-Productronica 2016 has turned India's Silicon Valley, Bengaluru into the most happening place or more aptly the converging point of diverse electronics technologies. Presence of global companies and their display of latest technology in semiconductor, display manufacturing, micronano production, test and measurement, hybrid component manufacturing will be of great benefits for the home grown product and component manufacturers.
The three-day exhibition is witnessing a series of new launches and the latest in the list is the 'ThermoJet Precision Temperature Cycling System' from CME. The product is launched by the leading environmental test system manufacturer, CME (CM Envirosystems) in collaboration with SP Scientific, USA. Announcing the launch, Mr. Prajwal Crasta, CEO of CME said that, "In India we don't have advance testing technologies to detect failures at product development stage resulting large number of product failures within two to three years of product launch. The fact that 2/3rd of such failures are due to environmental and mechanical factors which in fact could be easily avoided if it is tested in the right way using the right equipment. Sensing this need of the industry, we have increased our product line to Thermojet systems which is specifically designed for electronic component testing such as semiconductor testing."
While describing the product, Mr. Greg Stevens, Commercial Director of SP Scientific said, "ThermoJet Environment Simulator is a precision-controlled temperature forcing system that delivers an airstream of up to 20 SCFM (standard cubic feet per minute) to rapidly change the temperature of a product or Device Under Test (DUT). ThermoJet provides temperature transition speeds unmatched in the industry, and can sustain air cooling temperatures of -80°C at 20 SCFM."
"With the inclusion of Thermojet systems, CME has become the only manufacturer in India with full spectrum of Environmental Test Systems for diverse testing solutions. Recently we have also started offering mechanical test systems such as drop test systems, vibration shakers, shock and bump systems for electronics industry," concluded Mr. Praveen Crasta, the Director of business development at CME.
About CME (CM Envirosystems):
CME (CM Envirosystems) is a leading engineering company specialised in environmental simulation testing technology. With presence in 4 continents, the company designs and manufactures environmental test chambers which simulates real environmental conditions such as temperature, rain, dust, humidity, pressure, etc. in its test space to conduct reliability testing.