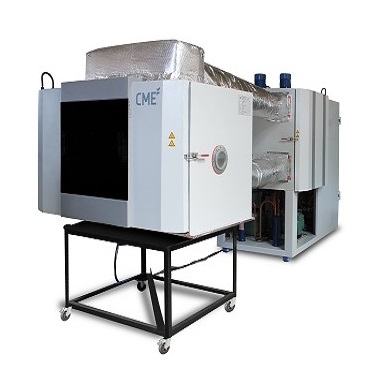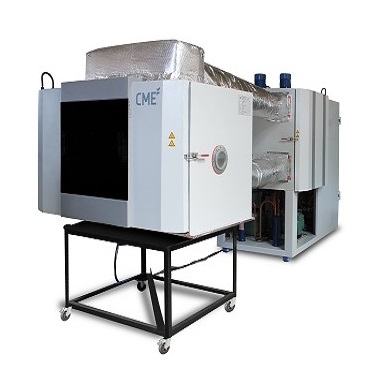 Climatic Chamber with Remote Conditioning Unit
The biggest advantage with CME chambers is that they are highly flexible for customization. Every test follows a set of procedures as per the defined test standards (ASTM, IEC, MIL, etc.) and sometimes a standard climatic chamber might not be enough to conduct a test. Our engineers understand this need of the industry and offer the highest level of customisation such as design modification or integration with other applications
Climatic Chamber
The biggest advantage with CME chambers is that they are highly flexible for customization. Every test follows a set of procedures as per the defined test standards (ASTM, IEC, MIL, etc.) and sometimes a standard climatic chamber might not be enough to conduct a test. Our engineers understand this need of the industry and offer the highest level of customisation such as design modification or integration with other applications
CME Remote Conditioning unit are used to deliver temperature and humidity conditioned air to remote enclosures. CME Remote Conditioning unit may also be designed for critical test requirement and for even greater flexibility.
Environmental Remote Conditioning units integrate with other products/assemblies for temperature and humidity-controlled environment.
Description
Specification
Workspace Dimensions - WxDxH
mm
1500
x
800
x
800
In
59
x
31
x
31
Volume
Ltr
960
Cuft
34
Temperature Range
°C
-70
To
180
°F
-94
To
356
Ramp Rates
Cooling °C/min
3
Heating °C/min
3
---
CME is a leading engineering company specialised in environmental simulation testing technology.